NORTHAMPTON

GREEK ORTHODOX CHURCH

Northampton is a large town in the Midlands region of the United Kingdom with a population of 200,000. It can be reached by road via the M1 Motorway (Junctions 15 & 16) and by rail from London Euston and Birmingham New Street. The county of Northamptonshire has a population of 650,000 including about 2,000 people of Greek origin who live mostly in Northampton.

The Greek community of Northampton dates back more than 40 years. The first Greek Orthodox services in the town were held at All Saints Church next to the market square and then moved to St. Peter's in Mare Fare in about 1973. In 1998 the Orthodox church moved to the building of old Princess Marina hospital chapel which was bought and is currently being restored by the Greek community.

St. Neophytos Church is one of over 110 Greek Orthodox churches in the Archdiocese of Thyatira and Great Britain and the only Greek Orthodox church in the county of Northamptonshire. It is located in Duston opposite the Princess Marina Hospital near Sixfields stadium.


Saint Neophytos Church,
St Crispin's Drive,
Duston,
Northampton,
NN5 4UN

Services are held on Sundays at 1000am every two weeks. (See lower down for details.)

Click here to see a map
PRESIDENT

CHURCH NEWS

President: George Kyriakides
Tel: 01604 648109
alternatively call Androulla Alexandrou 01604 647794

Look East BBC News video report - Restorers are having trouble keeping pace with wreckers who are repeatedly attacking a 19th Century Northampton church.
Chronicle & Echo newspaper report - Vandals forcing church to shut.
CHURCH SERVICES

CHURCH FESTIVALS

Next Church Services

2013
Sunday 27th January ..Feast of St Neophytos 10am.
Sunday 3rd February..Divine Liturgy 10am.
Sunday 17th February..Divine Liturgy..10am
Sunday 3rd March... Divine Liturgy..10am
Sunday 17th March...Feast of Alexandra..10am.
Sunday 24th March..Feast of the Annunciation of the Theotokos 10am
Sunday 31st March..Feast of St Gregory..10am. Archbishop Gregorios will be conducting today's service and there will be elections for a new church committee and president afterwards.
Sunday 14th April...Divine Liturgy..10am
Sunday 27nd April...Palm Sunday..10am
Friday 3rd May...Good Friday...6.30pm
Saturday 4th May...Holy Saturday...11pm
Sunday 12th May..Feast of Thomas..10am
Sunday 26th May..Divine Liturgy...10am
Sunday 9th June...Feast of the Blind Man..10am
Sunday 23rd June..Holy Pentecost...10am
Sunday 14th July..Divine Liturgy..10am
Sunday 28th July..Divine Liturgy..10am
Sunday 11th August..Feast of the Dormtion of Theotokos 10am
Sunday 25th August..Divine Liturgy 10am
Sunday 8th September...The Feast of the Holy Cross 10am.
Sunday 22nd September...Divine Liturgy..10am
Sunday 6th October...Divine Liturgy...10am
Sunday 20th October..Divine Liturgy...10am
Sunday 3rd November..Feast of St Luke..10am
Sunday 17th November..Divine Liturgy..10am.
Sunday 1st December...Divine Liturgy..10am
Sunday 15th December...Divine Liturgy..10am
Wednesday 25th December...Christmas Day..10am

All services from 10am - 1pm.

Christmas
St. Nicholas' Day, 6 December
Christmas Day, 25 December
Boxing Day, 26 December
St. Basil's Day, 1 January
Epiphany, 6 January

Triodion (2013)
Sunday of the Pharisee and the Publican, 24 February
Sunday of the Prodigal Son, 3 March
Meat Fare Sunday, 10 March
Cheese Fare Sunday, 17 March
Great Lent (2013)
Clean Monday, 18 March
Last Day of Great Lent, 26 April
Lazarus Saturday, 27 April
Easter (2013)
Palm Sunday, 28 April
Red Thursday, 2 May
Good Friday, 3 May
Easter Sunday, 5 May
(Easter Sunday, 20 April 2014)

Pentacost (2013)
Whit Sunday, 23 June
Whit Monday, 24 June
All Saints Day, 30 June

Dormination of the Virgin, 15 August
GREEK SCHOOL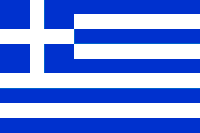 Northampton Greek School
Classes from 9:45am to 12:45pm every Saturday
Malcolm Arnold Academy
Trinity Avenue
Northampton, NN2 6JW
We teach Greek Language (Speaking and Writing) as well as the Culture and History of Greece and Cyprus. Please feel free to come along and join one of our lessons.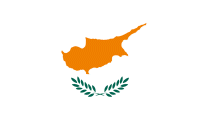 All you need to do to enrol is to turn up with your children on the day.
Teachers:Avgusta Stavrou and Anastasia Gratsa
Head Teacher: Georgia Piki
Chairperson:Dimitra Frangos
Tel: 07762211676 - 0789045638
Email: northamptongreekschool@...il.com, Website: http://northamptongreekschool.moonfruit.com/
Benefactors: Northamptonshire County Council
Enrolment: 30 students (as of April 2001).
Click here to see a map
EVENTS AND INFORMATION
Greek Barbeque, 14 August 2011

On Sunday 14th August we will be celebrating the Dormination of the Virgin at St Neophytos Church with an open-air barbeque beginning at 1pm. It's £5 for a kebab, the proceeds of which will go to the Church. Check this page for further updates or changes.
St Neophytos Church
Kent Road
Northampton, NN5 4XB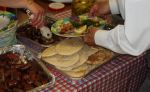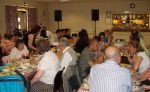 The Mediterranean Mix, Inspiration FM's Greek Show, Every Thursday 6-8pm on 107.8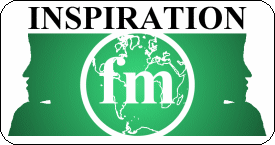 Inspiration FM 107.8, Northamptonshire's Multicultural Community Radio Station has been awarded a 5 year Coummunity Radio licence and came back on air on 24 July 2010.
The Inspiration FM Greek show has been running since 1997 and provides the only Greek radio programming in the UK outside of London to a potential audience of between 2,000 and 20,000 people of Greek origin.
The Greek Show will be on Inspiration FM every Thursday evening from 6pm till 8pm with DJ Aggie, DJ Mario, DJ Mazza and Dalia. We will keep you updated with the latest Greek community news and information and will be playing the latest Greek popular music, classic hits and new artists.
PAST EVENTS
Easter Midnight Mass, April 3/4, 2010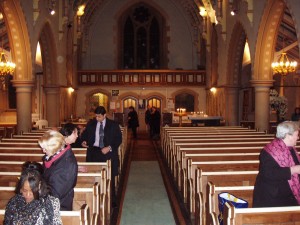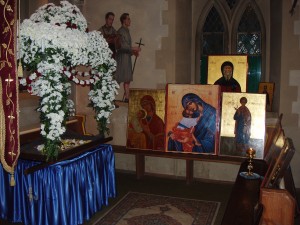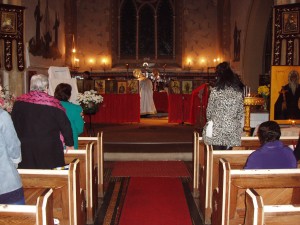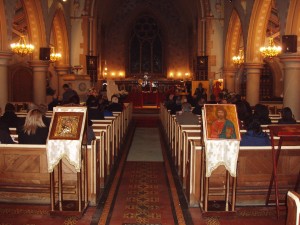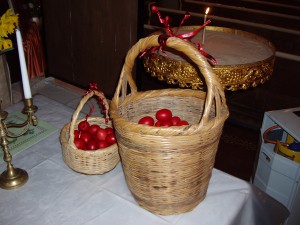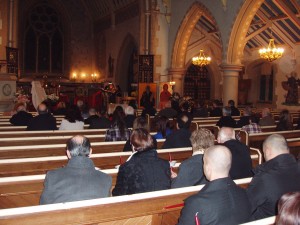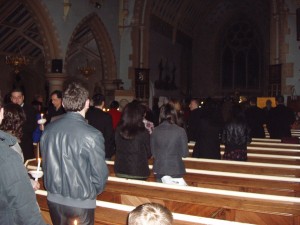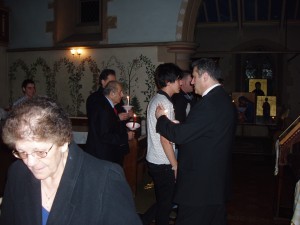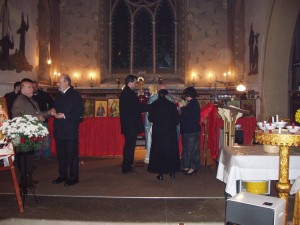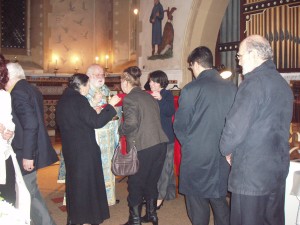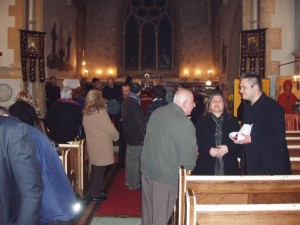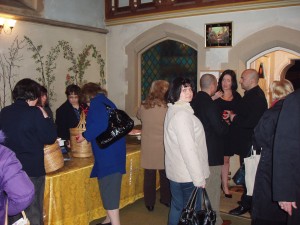 Good Friday, April 2, 2010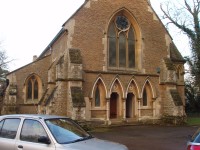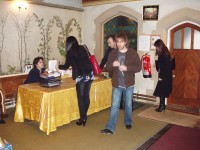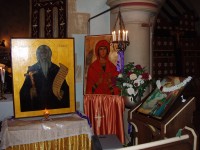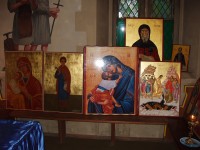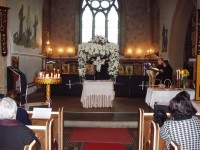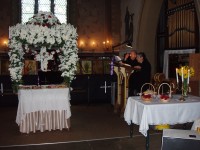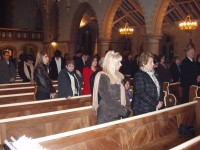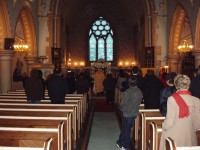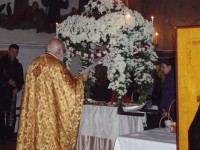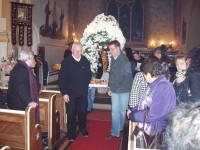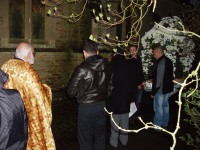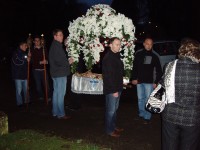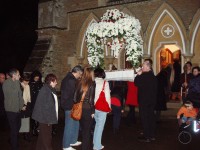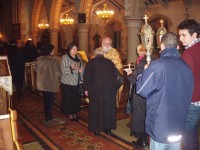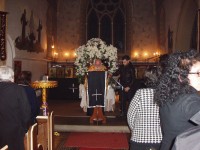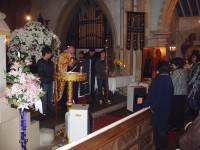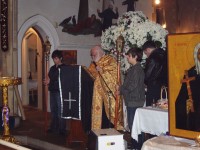 Northampton Carnival, Saturday June 13, 2009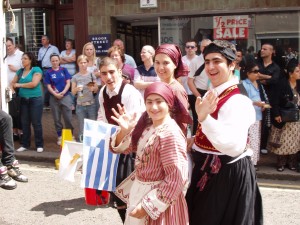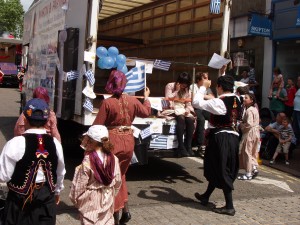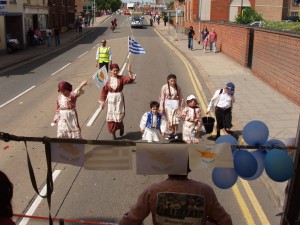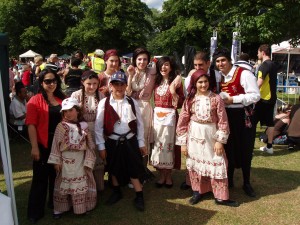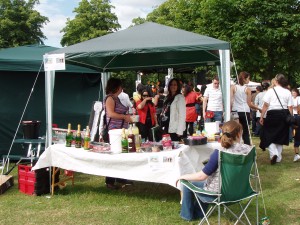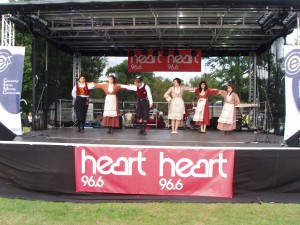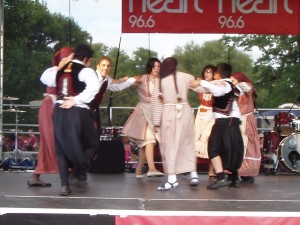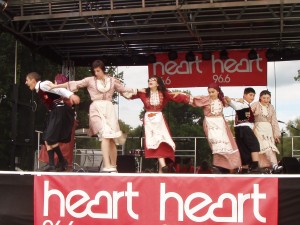 Easter, April 17/18, 2009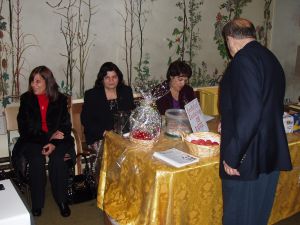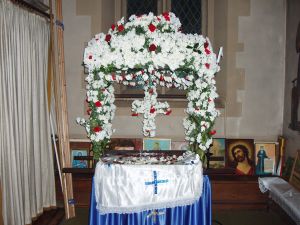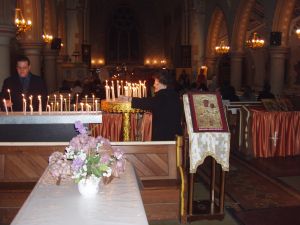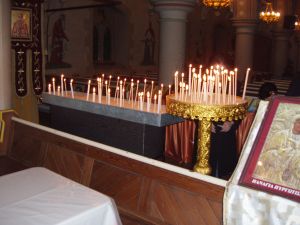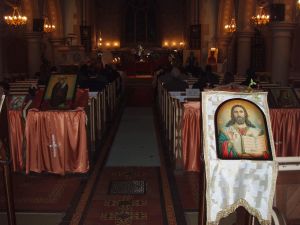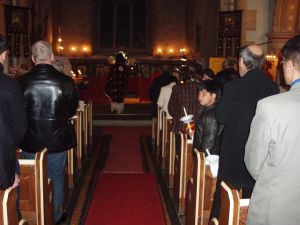 Greek Night, 23 November 2008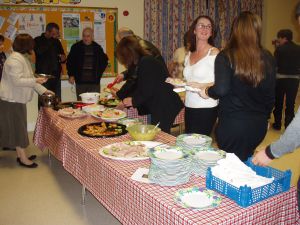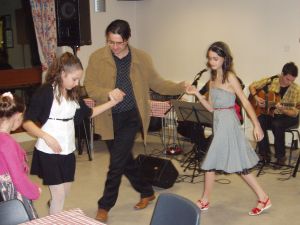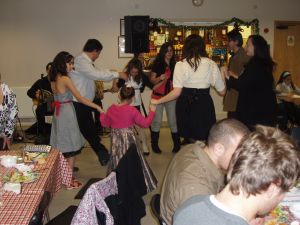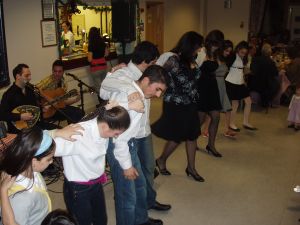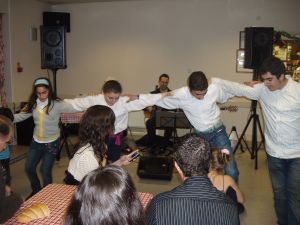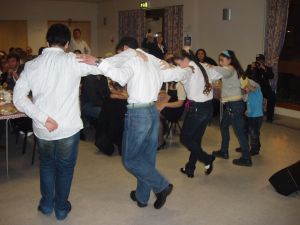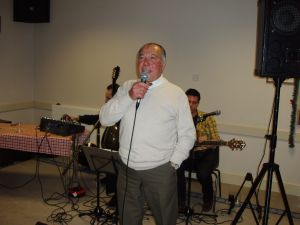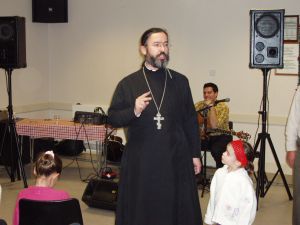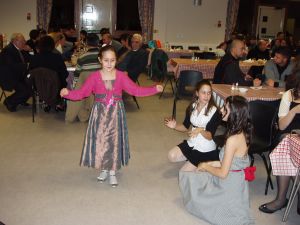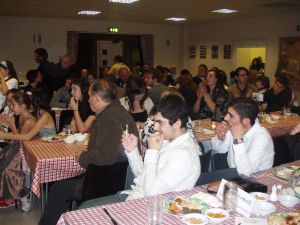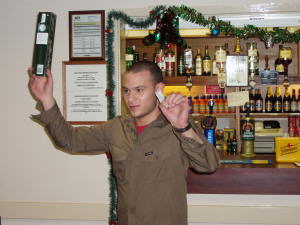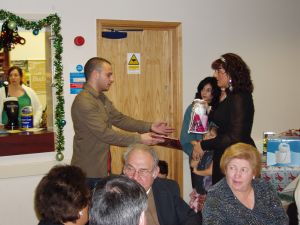 This event raised over £700 for the Greek Orthodox Church.
Greek Summer Festival
June 17 2007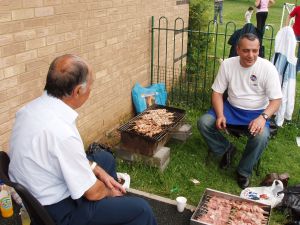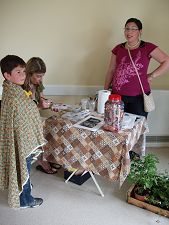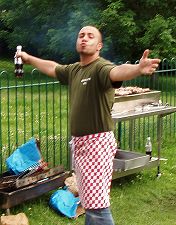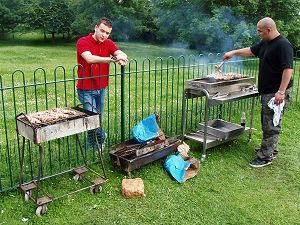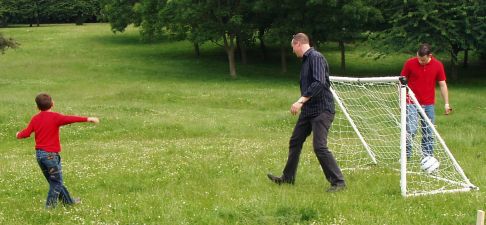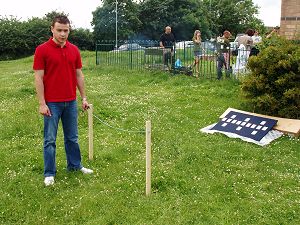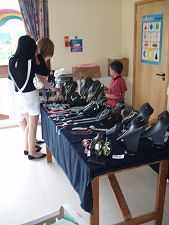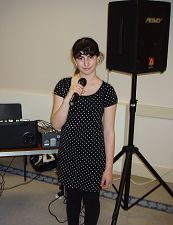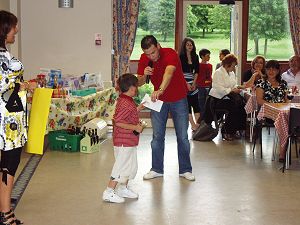 All proceeds for this event went towards church funds.

Greek Night 21 January 2008
Greek Festival 11 May 2008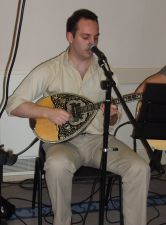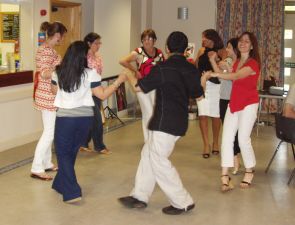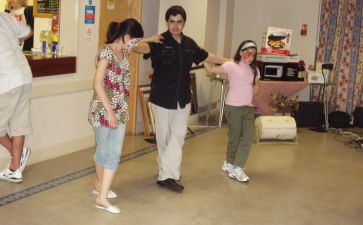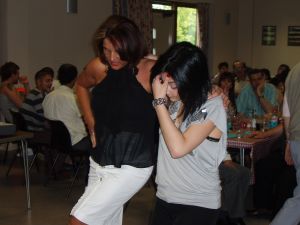 WHERE TO GO
Restaurants / Kebabs / Fish 'n' Chips
The Sahara Restaurant, 18 St Mary's Street, Bedford, K42 0AS
Greek Mezedes, Belly Dancing, Plate smashing and plenty of fun for all!
Night Clubs
Hush, Albert Place, Abington Street; Music on 3 Floors.
Luxe, The Old School Building, Adelaide Place.
Hair and Beauty
Andrews Salon, Mare Fair, and St Giles Street
Salon 21, Gold Street, and St Giles Street
Studio One, corner of Lower Mounts & Abington Square
Fashion
Clues Menswear, behind Debenhams off Gold Street
C2 Menswear, Gold Street
Entertainment
The Derngate Theatre is one of the UK's best and most popular entertainment venues.
The Royal Theatre is where the Doctor Who story "The Talons of Weng-Chiang" was filmed.

Sport
The County Ground is home of Northamptonshire County Cricket Club
Sixfields Community Stadium is home of Northampton Town Football Culb
Franklins Gardens is home of European Champions, Northampton Saints Rugby Club
NEIGHBOURING GREEK COMMUNITIES

Bedfordshire (population ~3,500)
Bedford est. 1981
The Orthodox Church of Agios Mamantos within the Transfiguration Church, Bedford Road, Kempston, Bedford, Beds. MK42
President: Andronikos Pallikaros, Tel: 01234 341598/854305
Luton est. 1976
The Orthodox Church of St. Charalambos, 78a Castle Street, Luton, Beds. LU1 3JA
President: Michael Kareklas, Tel: 01582 599743
Presbyter: Stylianos Savva

Buckinghamshire (population ~3,000)
Aylsbury est. 1972
The Greek Orthodox Community of Agios Fanouriou within the Anglican Church of St. Mary, Church Street, Aylsbury, Bucks. Tel: 01296 424276
President: Maria Horton, Tel: 01296 485352
Archimandrite: Damianos Konstantinou
Milton Keynes est. 1989
The Greek Orthodox Church of St. Ambrose and St. Stylianos within St. Martin's Church, Aylsbury Street, Fenny Stratford, Milton Keynes, Bucks. Services on last Sunday of the month at 11:30am
President: Niki Beales, Tel: 01296 720459, Website

Cambridgeshire (population ~3,000)
Cambridge est. 1968
The Greek Orthodox Church of St. Athanasius and St. Clement, Bridge Street, Cambridge
Presbyter: Nikolaos Vernezos
Peterborough est. 1991
The Greek Orthodox Community of St. Cyril Patriarch of Jerusalem, Peterborough
President: Areti Mathewes, Tel: 01733 266560

Leicestershire (population ~2,000)
Leicester est. 1970
The Orthodox Church St. Nicholas and St. Xenophon, Aylestone Road, Leicester, LE2 7LN
Presbyter: Antonios Stavrinou, Tel: 0116 2916518

Oxfordshire (population ~2,000)
Oxford est. 1966
The Orthodox Church of the Holy Trinity and the Annunciation of the Mother of God, 1 Canterbury Road, Oxford OX2 6LU. Tel: 01865 552597
Founder: The Most Reverend Kallistos, Metropolitan of Diokleia, Tel: 01865 554023
Presbyter: Oeconomos Ian Graham, Tel: 01865 772188

Warwickshire (population ~2,000)
Rugby est. 1987
The Orthodox Church of the Ascension, Clifton Road, Rugby, Warwicks. CV21 3QT
Presbyter: Kosmas Wittwer

West Midlands (population ~24,000)
Coventry est. 1964
The Greek Orthodox Church of the Holy Transfiguration, Westwood Heath Road, Coventry, CV4 8GP. Tel: 024 76464286
Presbyter: Andreas Panagiotou, Tel: 01203 463507
Birmingham est. 1939
The Greek Orthodox Cathedral of the Dormition of the Mother of God and St. Andrew, 8 Arthur Place, Summer Hill, Birmingham B1 3DA. Tel: 0121 236 3274
Presbyter: Kosmas Pavlides
Birmingham est. 1983
The Greek Orthodox Church of the Holy Trinity and St. Luke, Magnet Centre, Park Approach, Erdington, Birmingham B23 7SJ. Tel: 0121 326 7221
Presbyter: Christos Stephanou

Sources: The Greek Orthodox Archdiocese of Thyatira and Great Britain Yearbook, 1996 and 1998. The Archdiocese of Thyatira and Great Britain website. Population estimates are based on a UK Greek population of 500,000, with 300,000 living in London and 200,000 outside of London. Assuming each wholly owned Greek Orthodox Church serves a regional congregation of 1,500-2,000 (higher for those with a resident priest), each Greek community with a place of worship numbers 1,000-1,500, those without a place of worship < 1,000, and each Greek Orthodox cathedral in England (seven in London and one in Birmingham) serves a Greek Orthodox congregation of 38,500.