index

schedules

shows

djs

events

projects

community

sponsors

volunteer

links

listen

contact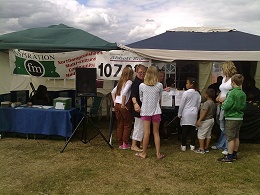 Inspiration FM is a community led and managed radio service, providing access, information, entertainment and training. Inspiration FM encourages and promotes a voice for those who are under-represented or socially excluded to provide an outlet for creativity, shared vision and expression. >...more

Based on the average number of hits per hour on our internet stream we predict we have between 20,000 and 30,000 listeners daily in Northampton. That's the same number as Radio 1, Radio Northampton and Heart in the same area.

If you are interested in sponsoring or advertising on Inspiration FM please call 01604 250544, emailJenny Campbell or contact our sales department.

If you would like a shout out, request or dedication or want to make a comment text 07596 277003.


In 2004 Inspiration FM received the Queen's golden jubilee award for voluntary service by groups in the community. The Queens Award was awarded to Inspiration FM for "encouraging black & minority ethnic communities and disadvantaged people in Northampton to get involved in community radio." >...more



On-Line Forum & Facebook
Take part in discussions at the Inspiration FM on-line forum or visit the Inspiration FM Live Facebook page.

The county's community radio station on 107.8 FM returns to the air-waves, with a bumper entertainment package. After 15 very successful run throughs and the highly favourable response of Northamptonshire listeners, "Inspiration FM" will be Broadcasting 24/7 with a mix of music to suit all tastes, interviews, phone-ins, news, traffic, and discussions of topics that really matter to the people of Northampton town and county.

Broadcasts from Inspiration FM's studios in Sheep Street Northampton include the stations favourites like R&B, Reggae, Gospel, Rap, Funk, Dance, Old Skool, Asian, African, Greek, Polish, Eastern European and Irish Folk music, a regular kiddies Saturday Morning show and much-much more.

The policy of "Inspiration FM" Multi-Cultural in its Programming - for the people, by the people. The station is the brainchild, of Mark Dean (Radio Production Training), Guy Williams (studio Technical Manager) and Jenny Campbell. Presenters, DJs and interviewers come from all walks of life, are resident in Northampton and like the heads of this community radio station give freely their service to "Inspiration FM"

"Inspiration FM" is non-profit making and if the station is to succeed and remain permanently on the air for the Northamptonshire public it is necessary to raise funds through donations and sponsorship. Northampton Borough Council and County Council confirm substantial funding and sponsorship comes from the Herald & Post Group and JCA Public Relations in Daventry. Now Inspiration FM are inviting community spirited Companies in the county to assist. Additional funding will come from businesses wishing to advertise their products and services in commercials which will be created in the stations own studios.

BBC Inspirations
Don't miss the "Inspirations" show hosted by Inspiration's very own Mark Dean on BBC Radio Northampton every Sunday from 8pm-10pm.

It is good news for Northampton that "Inspiration FM" is taking to the air again. Listen out for lively programmes to suit all ages across the board. Jenny Campbell the stations administrator says "Inspiration FM is your radio station and we're back by popular demand from the people of Northampton in general and across the county as a whole. Listen and watch out for more news leading up to our exciting opening broadcasts. >...more

Inspiration FM is looking for new volunteers to help the station out when our new 5 year licence begins. If you are interested in djing, presenting, journalism, office work, publicity work, sales work or have something to offer please fill out this application form and email it to us.